Wildlife Rehabilitation Center
by Wisconsin Humane Society
The Wisconsin Humane Society's Wildlife Rehabilitation Center annually receives and cares for more than 5000 injured, sick and orphaned wild animals of over 145 different species. Our goal is to rehabilitate these creatures and return them again to "the Wild."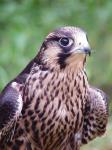 Many of the creatures we care for are familiar backyard animals and birds such as Gray Squirrels, Raccoons, Northern Cardinals and American Robins. But we also care for many creatures unfamiliar to most people, like Least Bitterns, Black-throated Blue Warblers, Northern Saw-whet Owls, Common Nighthawks, Eastern Long-eared Myotis and Gray Foxes, to name but a few. Some of the animals and birds we receive are even endangered or threatened, like Peregrine Falcons, Caspian Terns, Yellow Rails, Butler's Garter Snakes and Blanding's Turtles.
In addition to helping animals in our wildlife hospital, we give humane advice to people who have with concerns about injured, sick, orphaned or "nuisance" wild animals they have encountered. Our automated Tip Lines provide instant advice 24 hours per day about backyard wildlife encounters. Access our Tip Lines by calling (414) 431-6137.
The next time you visit our shelter be sure to check out the Wildlife Gallery. You can walk through our "Animal House," pictured at the right, to learn how you can "animal proof" your home and live humanely with the wildlife around you. Wally's Workbench is a new feature in the Animal House. "Wally" features a variety of products, selected by our Wildlife Center staff, for sale to help people humanely prevent or resolve conflicts with backyard wildlife. In the Spring and Summer, through observation windows in the Gallery, you can watch us care for orphaned wild babies in our Wildlife Nursery!
Contrary to popular belief, tax dollars DO NOT pay for our wildlife rehabilitation services! We depend on support from people like YOU to enable us to continue helping wildlife in our community.